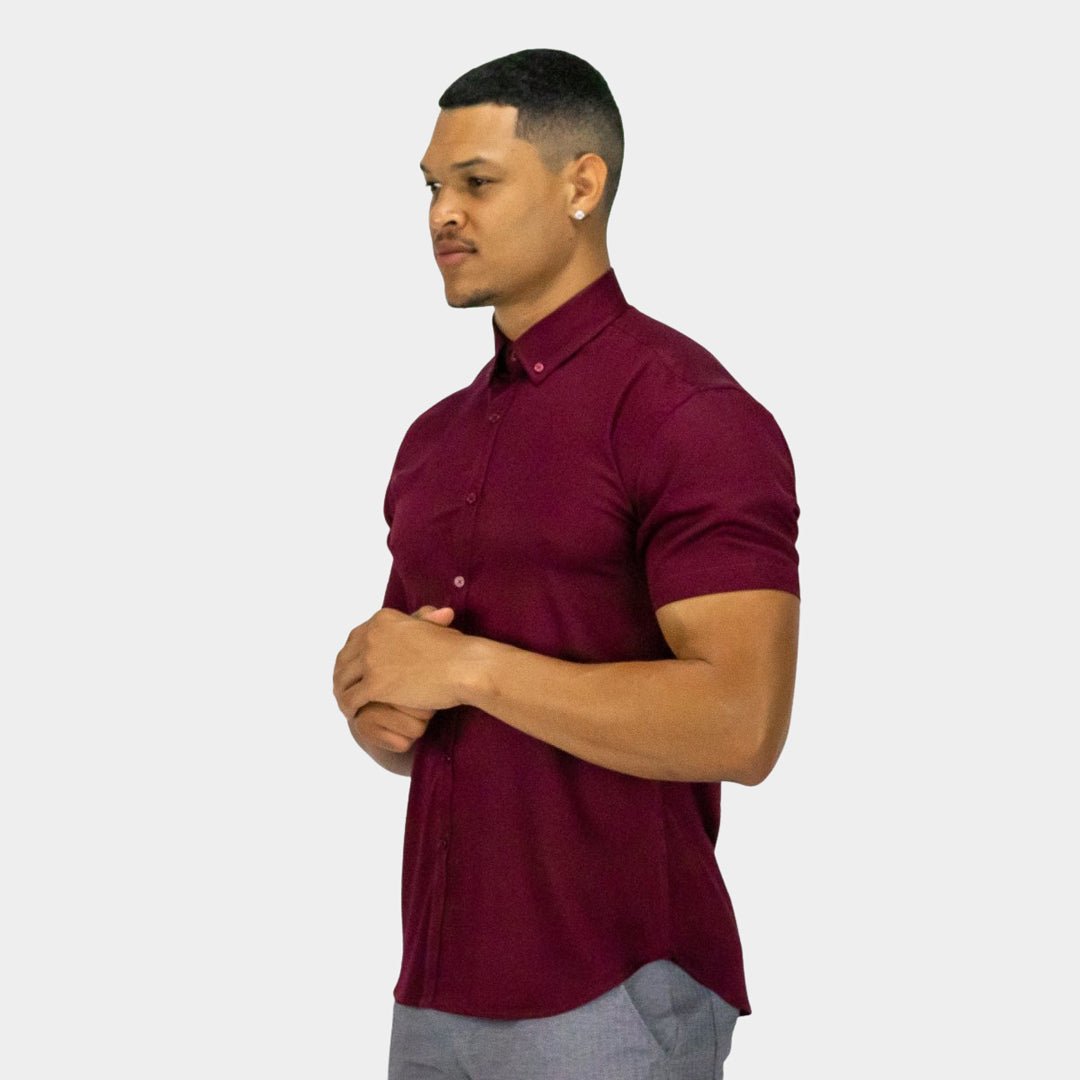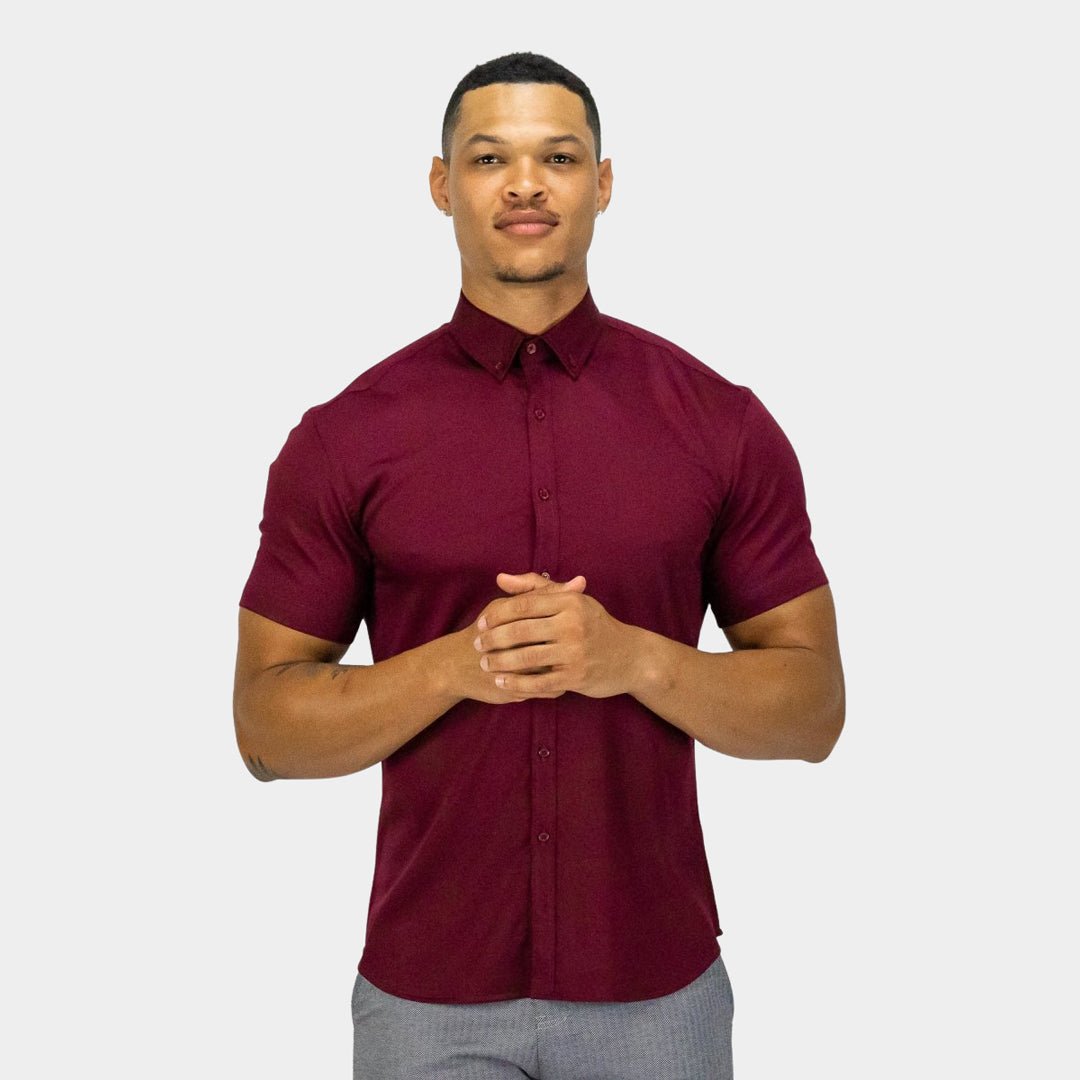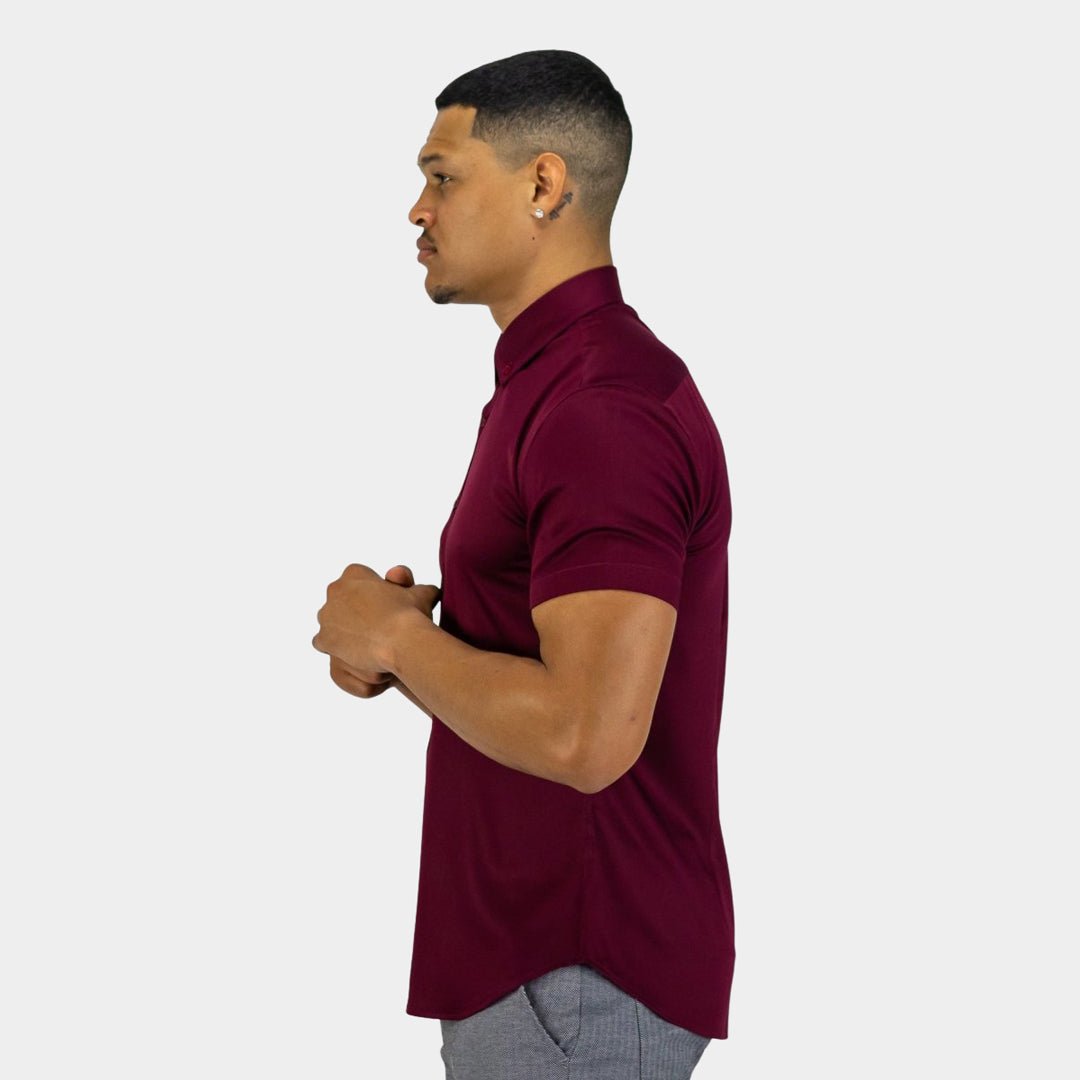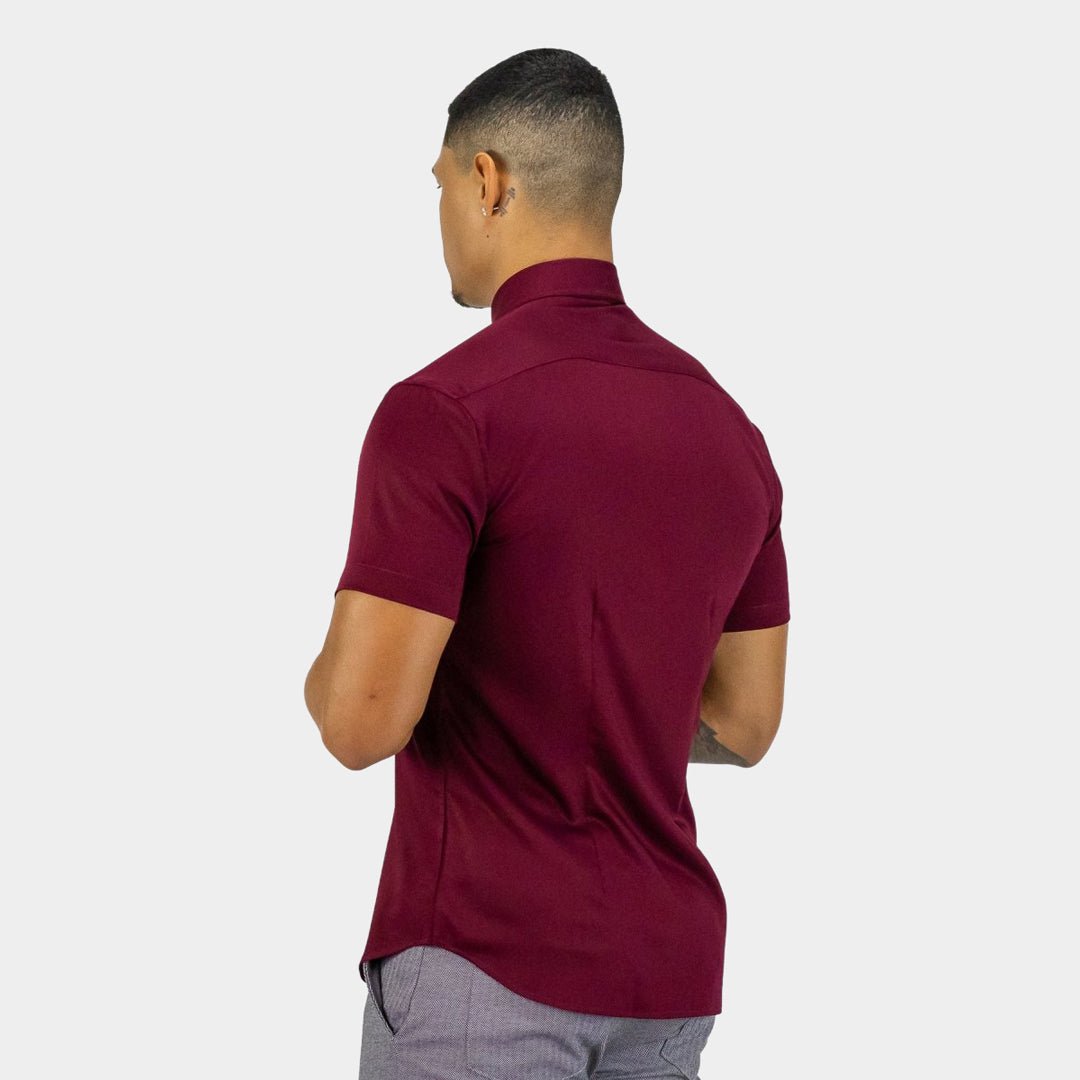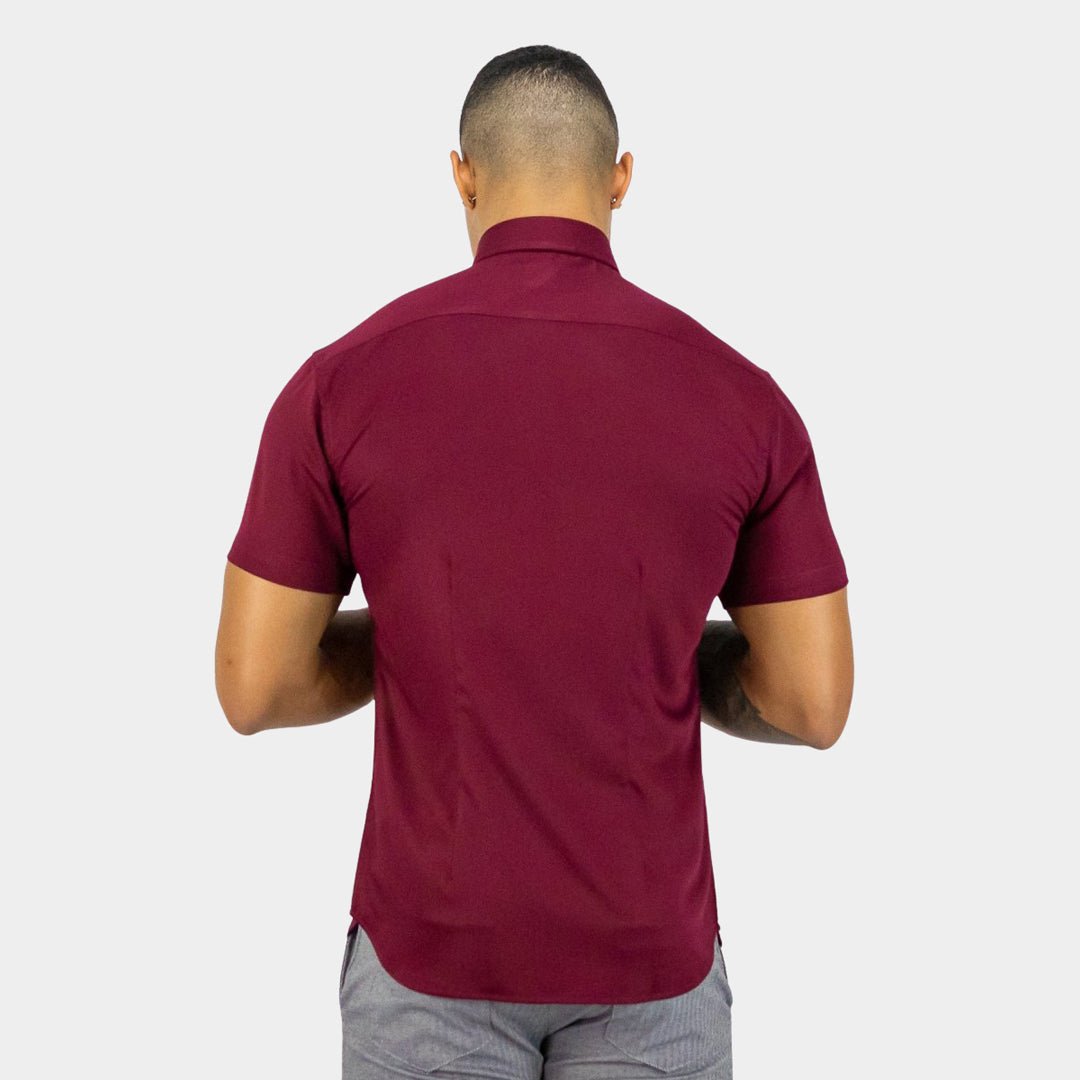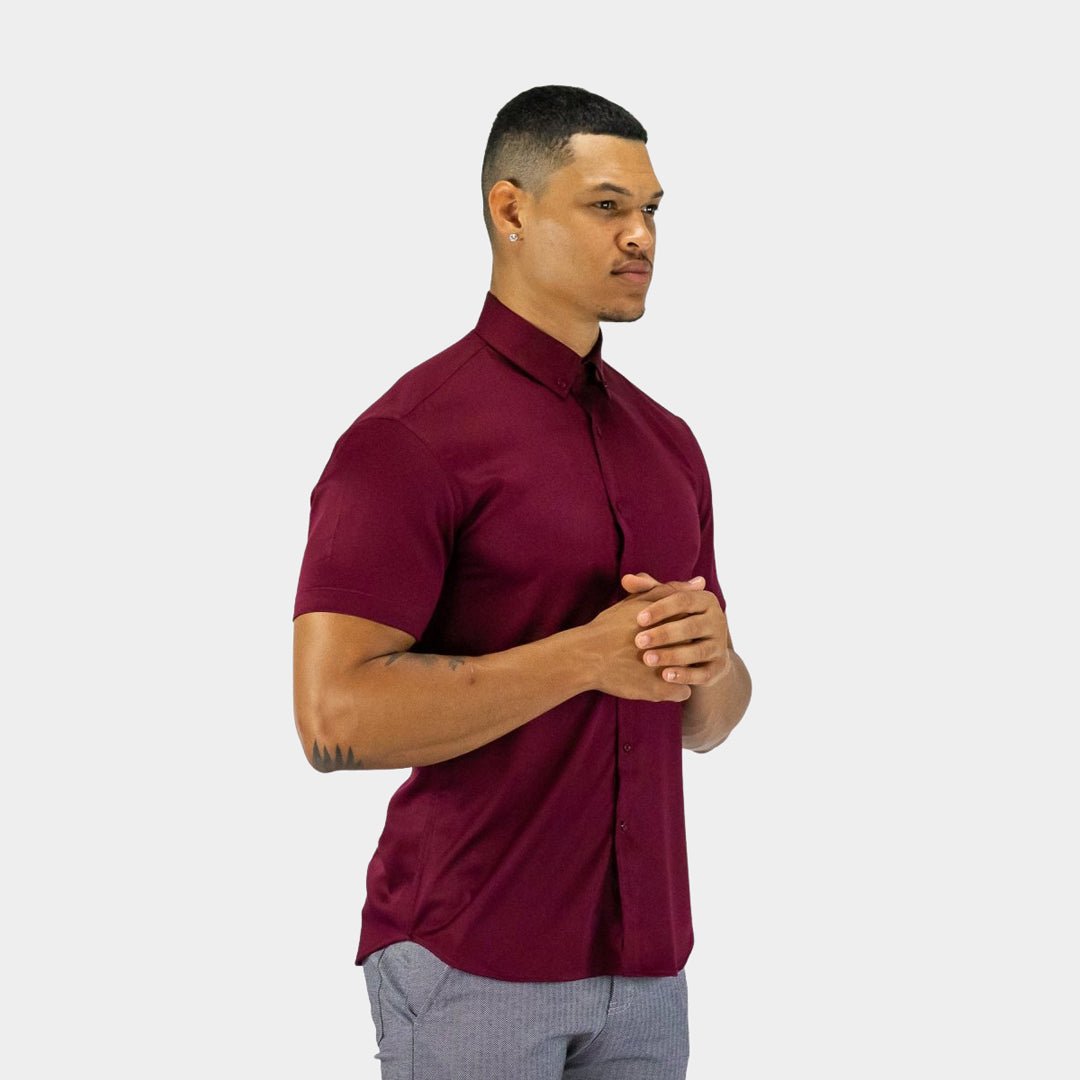 Bamboo Satin Stretch Short Sleeve Shirt - Burgundy
Item is in stock
Hurry! Low inventory
Item is out of stock
Item is unavailable

Description

SHIPPING

SIZE TIPS
✓ Easy Sizing - Use the "Find My Fit" tool above the cart button, to match our sizing perfectly to your body.
✓ Athletic Fit - A tapered athletic fit has slightly wider shoulders with a little extra room in the chest and arms with v- shape tapering down to a slim waist. Versatile sizing caters for a range of athletic body types. Smaller sizes optimised for lean athletic builds, up to the larger sizes for muscular bodybuilders.

✓ Bamboo Stretch Comfort - From the instant you put it in, you will understand the unique Bamboo comfort experience, with silky smooth and soft feel and performance features to breathe, regulate your temperature, moisture wick plus added functional stretch.
✓ Easy Care - Machine washable (No Dry Cleaning) low wrinkle bamboo satin stretch fabric with durable construction. 
✓ 100% Fit, Comfort & Quality Guarantee - We guarantee you will find these shirts to have a perfectly fitted look, an unrivaled comfort experience and to be constructed with the highest quality, or return for your money back!
✓ Experience confidence with an impressive tailored fit look, with all-day comfort for work, a special event or dressing up for social wear.
❌ Not for guys who have a waist larger than their chest, our Shirts have been tailored with experience and feedback of thousands of our customers from slim-athletic to muscular builds and bodybuilders. 
✓ Read the verified reviews below, which may have some helpful fit advice and experiences of guys with a build just like you.

✓ We care about giving you the perfect fit. If you need sizing guidance find the size chart or contact us on the green chat button for expert sizing help from our team.
Specifications
Tapered Athletic Fit
Bamboo-Microfibre-Elastane Fabric
Breathable, Moisture Wicking & Stretch
Button-Down Collar 
Machine Washable - Low Wrinkle
Sizes from S to 3XL
Model is 95kg 185cm wearing L for a relaxed, yet fitted look
Care
Cold Machine Wash & Hang to Dry
Warm Iron Only 
Do not use in clothes dryer
Do not dry clean
About Us
We specialise in performance clothing for Athletic men, so we understand the challenges in fit the athletic physique can pose.
We have a loyal customer base of thousands of men who range from weekend sportsmen, regular gym-goers, to professional athletes in soccer, cyclists, footballers and bodybuilders.
Frequently Asked Questions
How long will the shipping take? 
We have an up-to-date estimated shipping guide near the cart button.
I'm a skinny guy and not as muscular as the models, will these shirts still fit me?
On slimmer athletic guys the shirts emphasise the athletic v-shape appearance and if you are not into lifting weights, you may find the arms slightly more relaxed than in the model images. 
I've got a muscular build and ordinary shirts never fit without tailoring. Will these fit?
These shirts are tailored for you. Open up the detailed size chart, use the height & weight as a guide, but measuring is the most accurate. Cross-reference and ensure that no measured area goes above the "to fit" size.
I'm not really athletic and a bit more dad-bod middle spread than bodybuilder, will these fit?
These shirts are perhaps not for you. If your waist is not smaller than your chest you may struggle with stomach area fit as these are tapered to a slim waist.
I have had bad experiences with online shopping and I have never heard of Kojo Fit?
We have sold thousands of athletic fit clothing products to guys across the world. We only accept verified reviews from purchases. We truly care about giving the perfect fit, if you are not satisfied, we encourage size exchanges and returns. With 100% Fit, Comfort & Quality Guarantee, never get stuck with a bad fit!
Same Day Shipping* Orders Before 3pm A.E.S.T. *During sale periods most orders ship same day, but possible delays up to 3 days
1-3 Day Free Aus Delivery Orders >$99
2-5 Day DHL Express Worldwide Delivery
Shipping daily from Sydney, Australia
Use the "FIND MY FIT" Tool to select your size.
We also have a size chart with "To Fit" measurements.
The Find My Fit sizing tool uses data from millions of 3D body scans and matches you to our unique tailoring. We are continually feeding back data from our customers to optimise.

Tailored For The Athletic
Tapered fit for muscular physiques
Performance Stretch Fabric
Moves with you and feels soft on your skin

Bamboo Comfort
Breathable bamboo that feels soft on your skin and keeps you comfortable in all conditions

Easy Returns
Love them or return within 30 days